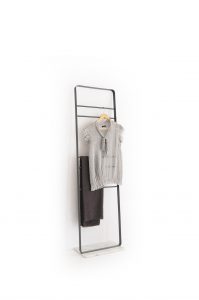 No hole – cloth rack
In a room, cloth rack is used to hang towel or cloth; however, we can put only few items on it, due to it has only 1-2 rails. No hole cloth rack is designed to place on the floor with multiple rails. In a result, user can put many cloths on with or without hanger.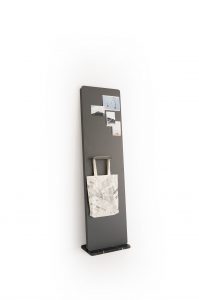 No hole – panel
No hole panel is designed to give space on the wall, without worrying to ruin the color and finish of the wall. This panel is a powder-coated metal sheet, therefore, user can stick a note, tape photos and poster, hang a tote bag or put the magnet on. The base is a marble with groove in order to place the steel panel on it. This helps to prevent the panel from sliding forward.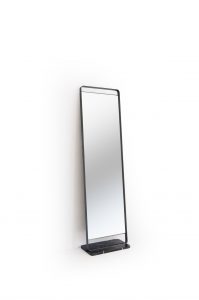 No hole – mirror panel
A full height mirror is useful when we are dress up. Instead of hanging it on the wall, we put it on the floor with a heavy marble holding it. Surprisingly, not only it reflects everything in the room, it is also be able to attach the magnet on this mirror surface.
Dimension
cloth rack
w.45x d.25 x h.162
wall panel
w.45x d.25 x h.162
mirror
w.45x d.25 x h.162
Materials
Powder-coated Steel
Marble
Mirror